In the first episode launched in collaboration between UNFPA Arab States Regional Office and Special Olympics MENA, the Special Olympics MENA Health Programs Manager shared more on the most critical topic of our time, Inclusive Health, to communicate the importance of equality in healthcare to the Youth.
With our second episode today, we are proud of UNFPA Egypt that has led this activity to connect us with the Y-Peer Podcast platform, a key platform to communicate to Youth about the most imperative topics of today such as Inclusive Health. Today, Special Olympics Egypt joins as the first Special Olympics program from 22 Middle East/North Africa programs to discuss Inclusive Health, the importance of understanding of inclusion for youth and the local impact of Special Olympics Egypt through Inclusive Health programs.
Tune it to the podcast to hear more about this interesting topic as we are joined by Yamine Abdel Aziz, athlete and Health Messenger from Special Olympics Egypt
About Yasmine Abdel Aziz
Yasmine Abdel Aziz, a 17-year-old swimmer in Special Olympics Egypt, began her journey with the program in 2015. She was already associated with Sporting Club in Alexandria Governorate when she learned about the events of Special Olympics Egypt, and after her participation, her talent began to attract attention. Her coaches and family members began to encourage her to participate more in national and international competitions and events for Special Olympics. Yasmine excelled in swimming, and she gained more appreciation day by day for her skills which had a positive impact on her family and her community. In 2017, she made her debut in the Special Olympics Egypt National Games. In 2018, the female swimmer participated in the 9th Special Olympics Middle East/North Africa Regional Games in Abu Dhabi, to win her first gold medal ever, and a total of three gold medals during those games. Yasmine is now aiming to compete on the world stage at the Special Olympics World Games to be held in Berlin, Germany in 2023. Besides her excellence towards sport, Yasmine is also known for volunteering in various events and "unified activities", where people with and without intellectual disabilities unite to activate non-sports initiatives. Yasmine showed great interest in health awareness, becoming a Health Messenger for Special Olympics Egypt, recognized as a female athlete who trained to become a leader, teacher, advocate and role model in the Special Olympics Egypt community, and society at large, in the field of health and wellness.
Mohammed El-Kholy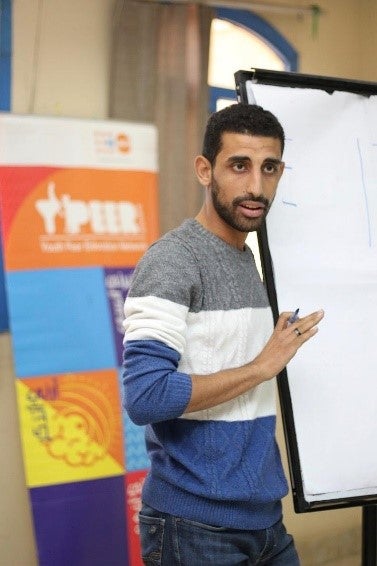 International Coordinator in Charge of Y-PEER international network, Women Deliver Young leader, Health Program Manager at Al-Shehab Foundation for Comprehensive Development and Presenter of the PEERCAST program, which has been recognized as one of the most influential and successful programs to fight Covid-19 globally by the United Nations. Moreover, as a professional in community development with proven successes in youth and humanitarian development, he was a former field coordinator for humanitarian settings at the United Nations Population Fund in Egypt.