The Ministry of Planning and Economic Development, in partnership with the United Nations Population Fund (UNFPA) launched 27 reports on the localization of the Sustainable Development Goals (SDGs) in 27 governorates on November 21, 2021.
The reports aim at accelerating the implementation of the SDGs at the governorate level by setting quantitative targets for SDGs indicators and identifying the developmental gaps of each governorate. This will translate into setting key priority areas and target groups and allow for targeted investments. Jointly these reports will support the implementation of Egypt Vision 2030.
The event brought together the Minister of Planning and Economic Development Dr. Hala Al-Said, Minister of Local Development Major General Mahmoud Shaarawi, UNFPA Representative in Egypt Ms. Frederika Meijer, all 27 Governors, deputies and local planners.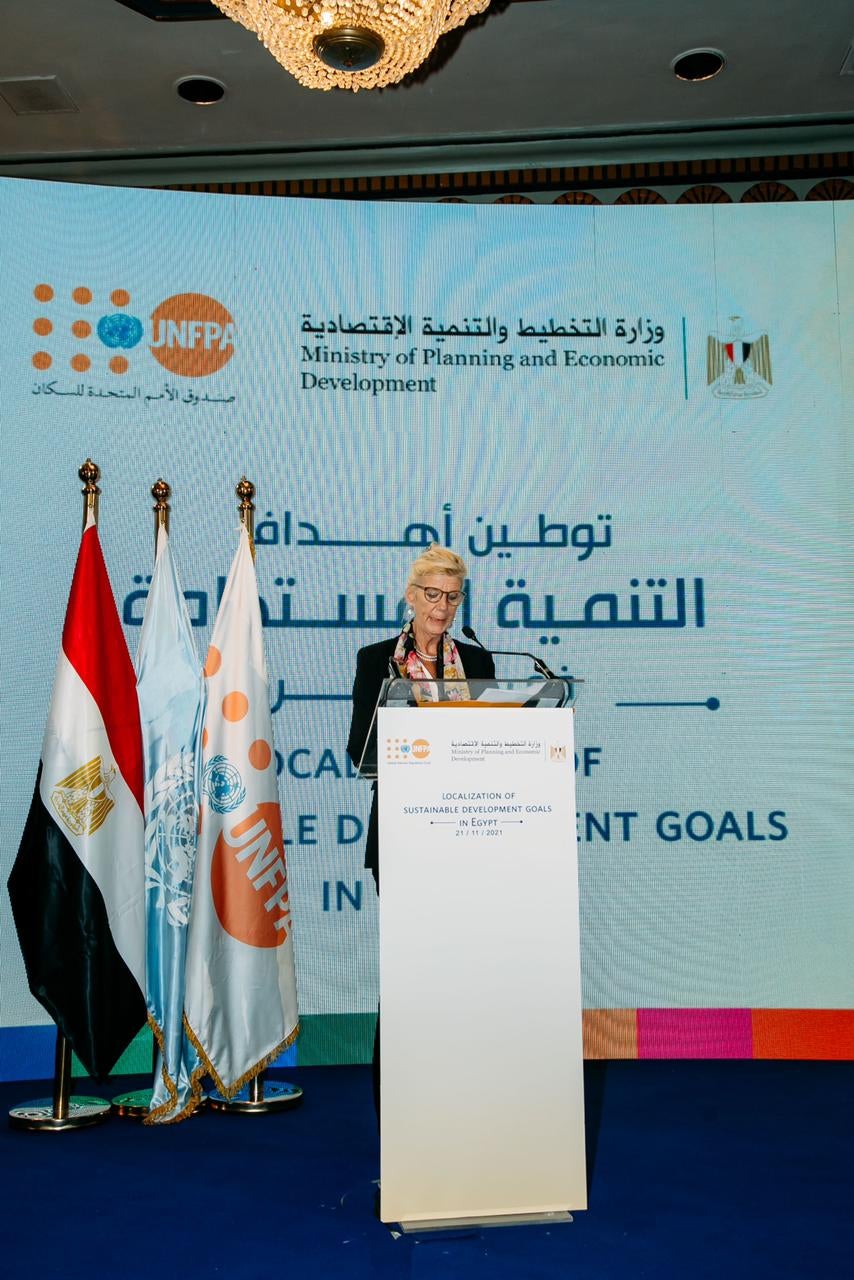 Relevant stakeholders including the private sector, civil society, research and academia and development partners, also attended the event.
"The Egyptian government is focusing on the localization of Sustainable Development Goals (#SDGs) due to its importance to achieving inclusive and sustainable growth and balanced development as one of the main pillars of the National Strategy for Sustainable Development: Egypt Vision 2030." Dr. Hala AL-Said said.
The event discussed the active engagement of governorates in the implementation of the SDGs, the integration of SDGs into local plans, and the potential use of the 27 reports as a basis for any future efforts to produce Voluntary Local Reviews (VLRs).
"Localizing development empowers all local stakeholders, making sustainable development more responsive and relevant to local needs and aspirations," Meijer said, "In the Decade of Action, it is now more crucial than ever to engage local communities to ensure no one is left behind by 2030."
In 2017, UNFPA Egypt commissioned a study to set quantitative local targets to a number of SDGs indicators at the governorate level for 11 SDGs according to available data. UNFPA, together with the Ministry of Planning and Economic Development then set to roll out and scale up the localization project by building the capacity of local planners in all 27 governorates.
The 27 reports give an overview of the development situation of each governorate. They aim at building on current opportunities and strategically using data to plan and deliver high-impact interventions, and accelerate implementation. The reports also underscored the variation in the level of progress in achieving SDGs among the governorates, and the consequences of such disparity.
The localization of the SDGs contributes directly to national initiatives such as Decent Life (Haya Karima), through which Egypt aims to improve the quality of life of Egyptians, especially in rural communities, within the framework of Egypt Vision 2030.