UNFPA conducted visits to the recently-launched Safe Women's Clinics in Beni Suef and 6th of October University Hospitals in May 2022, where they discussed the medical staff's needs and priorities.
The clinics offer comprehensive services for women subjected to violence, including medical services, as well as multi-sectoral referral to legal and social services in coordination with NCW.
The Beni Suef and 6th of October clinics were inaugurated on May 15, with the support of the Royal Norwegian Embassy.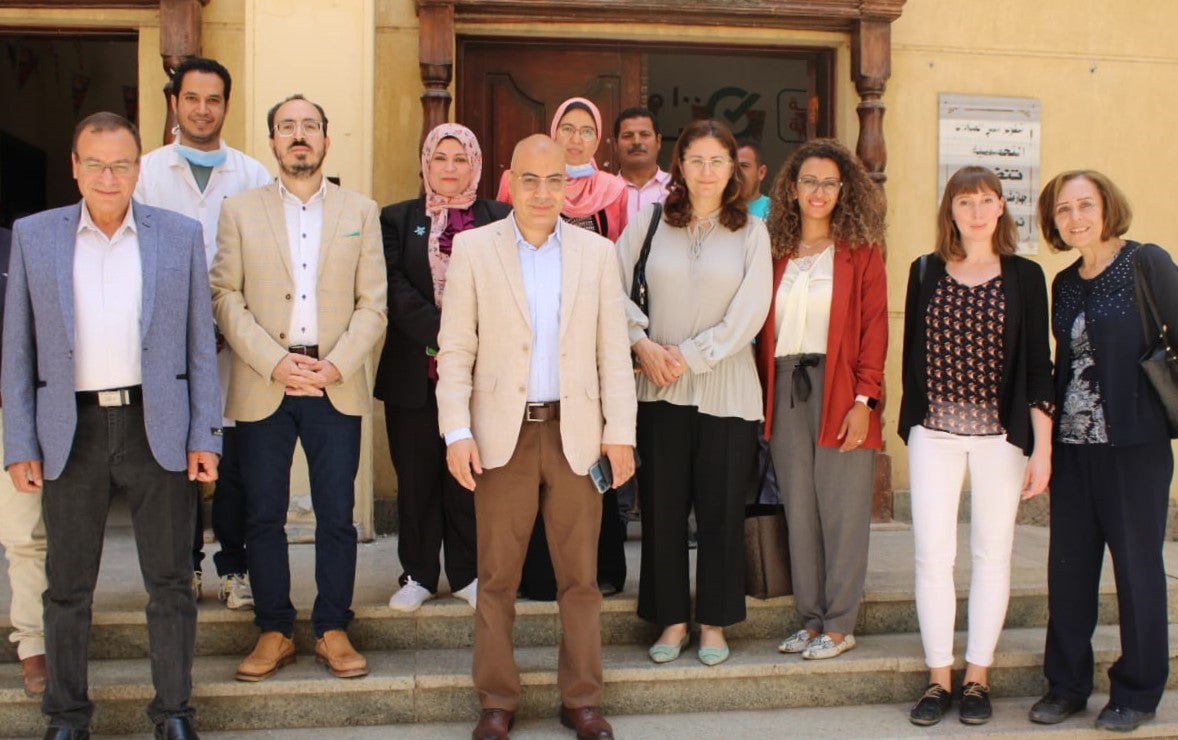 At the 6th of October University Hospital – the first private university to establish a Safe Women's Clinic – UNFPA representatives met with Dr. Mostafa Al-Hudhud, Dean of the Faculty of Medicine, Dr. Eman Al-Tahlawy, Safe Women's Clinic Coordinator, Dr. Ghada Essam, physician, Dr. Mohamed Yehya, Forensic Doctor, Dr. Ahmed Hussein and Dr. Ahmed Gamal Gynecologists.
The participants discussed the capacity building priorities and needs for the medical staff of the clinic, the referral mechanism with the social services led by the National Council for Women (NCW) and means to increase awareness amongst university students on forms of violence and on the role of the clinic.
Partners agreed to hold public seminars for medical staff and university students to discuss and shed light on the legislative rights of women in cases of gender-based violence and to capacitate larger numbers of doctors and nurses on comprehensive medical response.
The participants then visited the clinic where they learned about some of the cases received and the needed services.
At Beni Suef University, UNFPA representatives met with Dr. Mohamed Shabaan, Executive Director of Beni Suef Universities, Dr. Mostafa Haroun, Head of Medical Syndicate in Beni Suef, Dr. Ahmed Hassan, Director of Oncology Hospital, Dr. Tamer Mahmoud, Director of the Nephrology and Dialysis Unit, Dr. Moemen Zakareya and Dr. Al-Zahraa Mohamed, Coordinators of Safe Women's Clinic, and Ms. Hanaa Shabaan, Head Nurse.
The meeting allowed UNFPA to introduce its comprehensive response approach to the needs of women subjected to violence, the national and local referral mechanisms available and its investment in evidence-based data and to the needs of marginalized groups, especially women with disabilities. UNFPA and NCW representatives headed to the Clinic's site and discussed further with the medical team the reporting framework and discussed ideas to increase visibility and outreach of the clinic.
The visit brought together Ms. Sally Zohney, UNFPA Gender Specialist, and Ms. Kerstin Schinnerl, Gender-Based Violence and Harmful Practices Programme Analyst and Dr. Amal Philip, Health Services Expert and member of the Anti-Violence against Women Coordination Unit at NCW and Ms. Mona El-Ghazali, National Coordinator of the Anti VAW Unit.