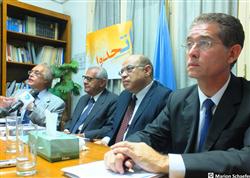 "It is part of UNFPA's mandate to get rid of all forms of violence against women…that is why the Governments, civil society, doctors, and the UN should all collaborate to get rid of FGM/C, recognised by the medical community as a harmful practice" stated Doctor Magdy Khaled- UNFPA Assistant Representative Officer in Charge- in front of the media, during the press conference held on Thursday 20th September.
The press conference was held in the context of the declaration emphasizing refusal of FGM/C issued by gynaecologists, professors of gynaecology and obstetrics in Egyptian universities, hospitals and Ministry of Health and Population in the wake of the recent convocation to perform FGM/C and to repeal the law prohibiting and criminalizing practitioners who perform it. 
In front of journalists from national and international newspapers, radio and TV channels,  the speakers - Professor Dr. Ezzeldin Osma , Secretary General of the Egyptian Society of Gynecology and Obstetrics; Dr. Atef Elshitany, Secretary General of the National Population Council of Egypt (NPC); Mr. Philippe  Duamelle, UNICEF Representative and Dr. Magdy Khaled –renewed their support to the declaration, rejecting the practice and underlining its dangerousness and its inconsistency from different points of view:
From a medical point of view, it was reminded that FGM/C is a "fierce practice violating the rights of the girls" (Dr. Atef Elshitany) and with "no medical benefit" (Philippe Duamelle). Therefore, the practice, which should be renamed « cutting of reproductive organs for girls » and no « purification process » or "circumcision" according to Doctor Ezzeldin Osma, can't be performed by a doctor, as doctors vow to protect and work for the benefit of their patients.
Legally, FGM/C is forbidden by law in Egypt: in the child law, the Egyptian penal code, and a decree of the MoHP; FGM/C is acknowledged as a violation of child rights and as an unnecessary violence.
FGM/C has no roots in religion, since "Islam glorifies women" (Dr Ezzeldin Osma) and since Saudi or Jordan don't practice FGM/C as asserted by Dr. Atef Elshitany.
The press conference ended with a note of hope from Dr. Magdy Khaled indicating the full support of UNFPA to the efforts of the government of Egypt and the civil society in elimination of FGM/C and all other form of gender based violence.
Dr. Khaled congratulated the Egyptian Community of medical doctors for their strong and constructive statement and invited them to express their support in other medical issues that have pressing social implications on maternal health like the issue of maternal mortality and teenage pregnancy due to early marriage.