The United Nations in Egypt and the Ministry of Youth and Sports commemorated International Youth Day in a joint four-day event on August 7-9 and 10, 2022.
This year, the theme of International Youth Day is "Intergenerational Solidarity," highlighting that solidarity across generations is key for sustainable development.
The first three days included youth dialogues on climate change, with the objective of providing a platform for young people to meaningfully engage with civil society, private sector and government on changing perspectives and finding solutions to climate change. 
The dialogues were held under three different themes respectively; " Youth Engagement in Climate Change," and "Climate Change and Health, Nutrition and Food Security," and "Climate Change and green jobs."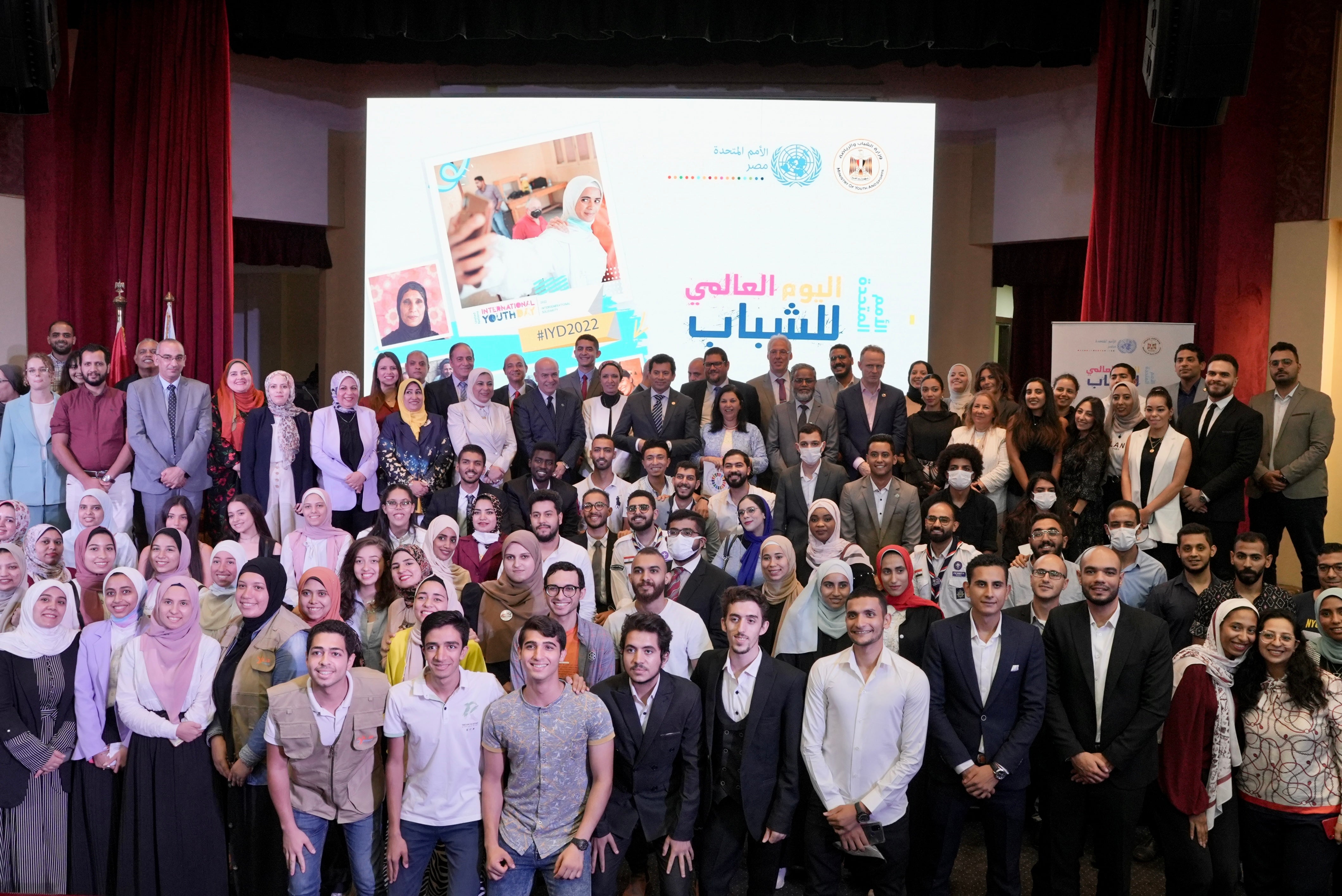 Following the dialogues, young people demonstrated their ideas and solutions to climate change in paintings that were presented in a collage format during the final day on August 10 in the presence of the Minister of Youth.
Recommendations that resulted from the dialogues included integrating climate change meaningfully into school curricula, increasing government efforts and incentives to encourage the private sector to go green, among others.
The concluding event started with a recorded speech by the UN Secretary General, followed by a message from Elena Panova, Resident Coordinator in Egypt. She stated that the International Youth Day is a very important pillar for the United Nations Team in Egypt, opening the floor for the Representatives of UNFPA, UNICEF, ILO, UNDP and WHO to take the floor to encourage young people to be fully engaged in the climate discussion and to pave the way for COP27 scheduled for November in Sharm El Sheikh.
Minister of Youth and Sports Dr. Ashraf Sobhy explained that Egypt works with international organizations in order to provide a space for young people to express their views and experiences on climate change, and to provide dialogues as a platform for knowledge exchange.
"Around 1.8 billion people around the world are between the ages of 10-24, in Egypt there are 60% of the population, approximately 60 million, are below the age of 29. Especially this generation and future generations will be the most affected by climate change," UNFPA Representative Frederika Meijer said, "when discussing solutions they should have the information and a seat at the policy table."