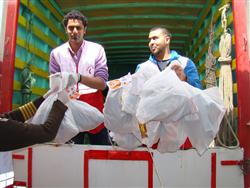 UNFPA Cairo Office team conducted a field visit to the Egyptian – Libyan Boarders at Salloum city, in order to evaluate the humanitarian actual situation at the border and to obtain information on the continuing outflow of people from Libya. The field visit has been done with prior coordination with the Egyptian Red Crescent Association (ERCA) both centrally and locally. The team has the task also of supervising the provision of 3 tons of humanitarian dignity kits (2000 bags) for males and females, with the assistance of the ERCA personnel, to be distributed on the families and personnel stranded at the border who are escaping the fighting at Eastern Libyan Cities.
Also , UNFPA / Cairo office received 5 tons of Reproductive Health medical kits, and the UNFPA concerned team is preparing now, in coordination with the ERCA and the Libyan Red Crescent to transport them to the Egyptian –Libyan Border at Salloum next week, to cross the border into the nearest Eastern Libyan City and be received by the Libyan Red Crescent concerned personnel, in order to carry them to hospitals and health centers inside Libya and distribute them accordingly to the actual needs of these centers as regards the quantity and quality of medical assistance needed by each hospital or medical center.
Dr. Ziad Rifai, Egypt UNFPA Representative said that the UNFPA/Humanitarian Assistance Department is very keen to participate in facing the health crisis which the stranded people suffer at their situation at the Egyptian –Libyan border. The UN agencies in coordination with their partners (National and International) are committed to provide more support and humanitarian assistance guided by the actual needs of the Libyan authorities and which adapts to the actual situation for the stranded poor people at the border of any nationality in coordination with the Egyptian and Libyan Red Crescent Association.