Fifteen-year-old Shaymaa was running alongside her friend Marwa, following a 2 KM route along the Nile in the governorate of Aswan.
Shaymaa plays football and says she is used to jogging in the streets. "I don't care if people bother me, it's just sports."
But unlike Shaymaa, Marwa was always reluctant to use the streets to run. Yet, she was encouraged to participate in the 2 KM run organized by UNFPA, as part of Destination Egypt 2030's activities in partnership with the Ministry of Youth and Sports and in cooperation with Etijah Youth and Development Consultancy Institute.
"I'm so happy," she gleamed, "I want to do this all the time."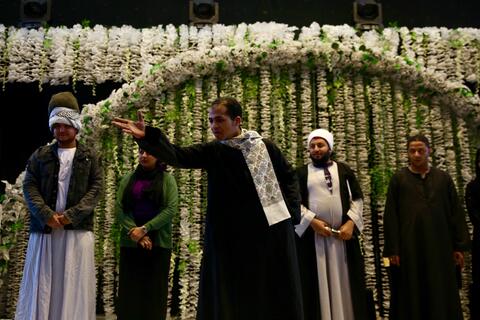 Destination Egypt 2030, the Sports for Development initiative which aims at mobilizing young people to address developmental challenges, just concluded its activities in Aswan, Qena and Luxor. It is set to make stops in nine other governorates throughout the year including Minya, Assiut and Beni Suef.
The initiative involves three-day monthly activities across Egypt's governorates, each promoting different developmental issues.
The activities center on a 2 KM run along the corniche, followed by a musical performance UNFPA's Music for Development initiative, by bands High Dam, Al-Mena, Saher El-Zoghby and Yasmine Zaki, whose lyrics include messages about women empowerment, FGM among other issues.
Participants also take part in a capacity building workshop and an interactive theater performance tackling different issues.
The theater performance by Y-PEER Egypt, UNFPA's youth leadership network, tackles early marriage, after which it opens the floor for questions from the audience directed at characters of the play.
"How do you expect a child to raise another child?" one audience member in Luxor asked.
"You were born and raised by a woman, why do you discriminate against girls?" asked another in Qena.
UNFPA utilizes sports as a tool in the pursuit of developmental gains, including to generate a commitment to end unmet need for family planning, end preventable maternal deaths, and end violence and all harmful practices against women and girls..
At UNFPA, we use sports as an entry point for youth engagement, especially young girls' empowerment.
The activities not only mobilize young people, but they create a platform for debate between adolescent girls and boys. In Qena, Destination Egypt 2030's activities coincided with International Women's Day, as participants spent the three days discussing women and girl empowerment.
21-year-old Esraa spoke out on women's rights during the capacity building workshop. The next day, following the 2 KM run, Esraa said that she was criticized for being too outspoken.
"In some areas, women are stigmatized if they speak their mind," she said, "That is why I always push back and speak up about women's rights, even to my parents."
UNFPA and the Ministry of Youth and Sports pioneered the Sports for Development initiative, building on the success of the Crossing Egypt Challenge; a 24-day journey from Aswan to Cairo by four young athletes which was in full swing early last year.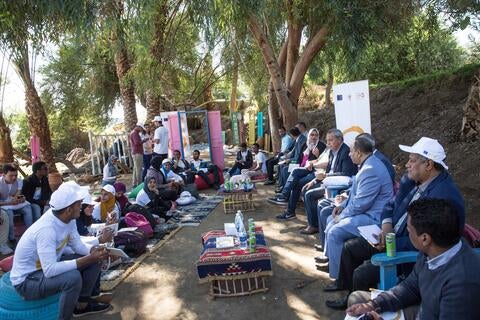 UNFPA, together with the support of the European Union, the governments of Norway and Italy, is working on mobilizing young people, and investing in the well-being of adolescents and youth, to harness a demographic dividend to achieve the 2030 Agenda in Egypt.