You are here
Country Representative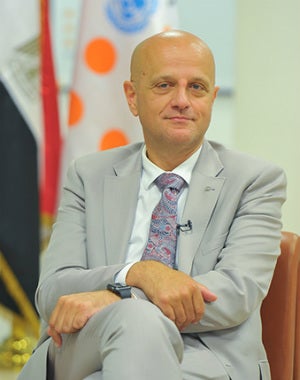 Dr. Aleksandar Sasha Bodiroza
Dr. Aleksandar Sasha Bodiroza is the UNFPA Representative and is responsible for leading the entire team and driving all elements of UNFPA operations in Egypt. For over twenty years, Dr. Bodiroza's pioneering work focused on youth empowerment, women's sexual and reproductive health in developing countries. He is  tenacious and vocal advocate for reproductive health for all, empowering women and young people, and ensuring that no one is left behind.
Previously he served as the Head of Integrated Field Support Unit of the Arab States Regional Office of UNFPA and Senior Technical Adviser on Youth for Arab States Regional Office, Technical Adviser on Youth, HIV/AIDS for Division of Eastern Europe, Arab States and Central Asia. 
His background spans the fields of strategic direction, planning, management and partnership; peacebuilding, public health, including HIV prevention, youth health development and protection and strategic communication for behavior change. Under the leadership of Dr. Bodiroza, UNFPA Country Office in Egypt managed to scale up its operations and programmes with aim to assist the Government of Egypt in their efforts to scale up right based Family Planning and Youth programmes. He is particularly excelling activities in the area of harnessing potential of demographic dividend / bonus through investment in youth that is placed in the context of the current population challenges Egypt is facing.
He is recognized expert in evidence-based approaches in the development of youth policies, and use of entertainment education in health promotion, demography and youth work. Dr. Bodiroza is a passionate advocate for stronger engagement of young people in peace building and post-conflict recovery.