Ensuring rights and choices for all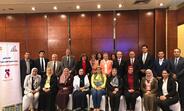 4 March 2018
Press release: UNFPA Representative and the Ambassador of Switzerland Visit to Assiut
Cairo, 4 March 2018 –Today, the Representative of the United Nations Population Fund (UNFPA) in Egypt, Dr. Aleksandar Bodiroza and H.E Mr. Paul Garnier, Ambassador of Switzerland in Egypt and Counsellor Marwa Lasheen Head of Egyptian Economy Unit in the Ministry of Foreign Affairs visited Assiut University. During the visit,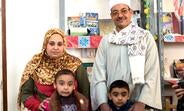 11 July 2017
World Population Day Statement by Acting UNFPA Executive Director
MESSAGE FOR WORLD POPULATION DAY 2017 Family planning: empowering people, developing nations Dr. Natalia Kanem Acting Executive Director UNFPA, the United Nations Population Fund 11 July 2017 ***   Every day, vulnerable women, especially those who are poor and are refugees, face social, economic and geographic obstacles to
Assessing Egypt's performance during past years concerning the implementation of the...

In 2000 the United Nations proposed the Millennium Development Goals, which were adopted...
No vacancies currently available